dotMobi Mobile Web Developer Certification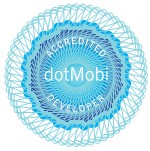 NOTE: Certification program is closed
dotMobi is committed to providing education and tools to advance the mobile web community, including the world's first mobile web developer certification.
Being a certified mobile web developer shows your clients and employers that you have specialized knowledge in mobile web development across multiple platforms – not just for .mobi sites. Plus, you will receive a strong background in the best practices of the W3C's Mobile Web Initiative.
Directory of certified dotMobi web developers
Why be certified?
Professional certifications play an important role in the evolution of a growing technology because they show that you are part of a culture of excellence. Certifications allow you to have a competitive advantage in the marketplace by delivering a level of trust to your clients and employers. Certifications show that you are an expert.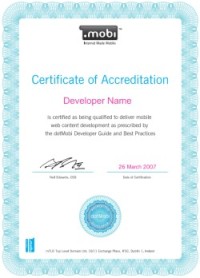 When you pass dotMobi mobile web developer certification, you:
Receive a certification for wall display and a personalized .mobi site with proof of certification
Receive access to dotMobi trustmarks for use on your marketing materials
Grow your business because you'll be added to dotMobi's directory of certified developers for client referrals
Special, limited-time offer
For a limited time, dotMobi and its certification partner, Prometric, are making certification available at an introductory price of US$195 (regular price $250). Visit prometric.com/dotMobi/ to sign up.
Get started. Get certified. Now.
Certification Study Materials
The certification test is based on the documents listed below. Candidates are strongly advised to be familiar with this material before taking the test.
Sample Questions
Due to public demand, we have made a set of sample questions (not a whole exam) available here to give you an idea of what the exam is like.
Certificate Resources
Developers who have been certified can use the images and marks from the Certification materials page on their sites.