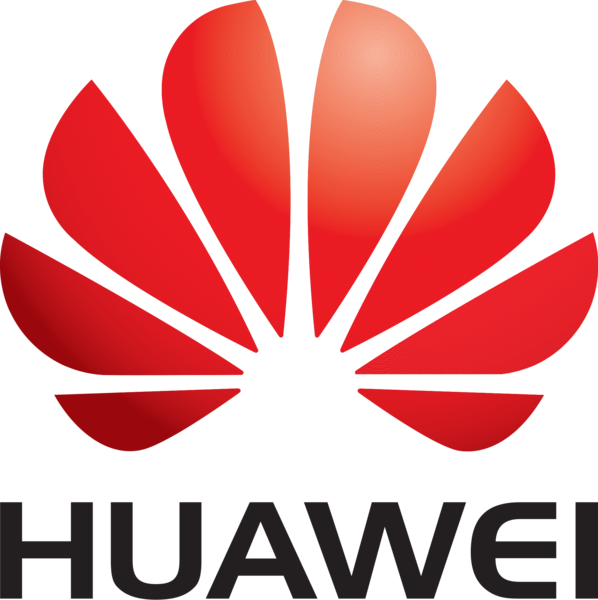 Huawei are in the headlines again – it's been a hectic 12 months for the world's second largest smartphone manufacturer.
The latest news follows a leak from the UK's National Security Council, confirming Huawei will be allowed to supply non-core 5G tech (such as antennas) for Britain's emerging network needs.
The news travelled quickly across the Atlantic. It was met with an escalation of rhetoric around future information and intelligence sharing between the US and any country who fails to follow them towards a total ban on Huawei network kit.
Robert Strayer of the US Department of State reminded the world that an "untrusted vendor" is not welcome, and should its hardware be present in another nation's network, the US would:
"have to reassess the ability for us to share information and be interconnected".
A similar situation is developing in Ireland, too.
The implications are obvious, with the UK and US being long-time partners in all things intelligence and cool-spy-stuff related. How much such threats will impact the UK's decision making is yet to be seen, but with Brexit (still) looming, with all the trade agreements it requires, rustling the feathers of the world's largest economy may not be palatable for many of Britain's decision makers.
The below image from Bloomberg shows that the countries who have already banned Huawei make up nearly a third of the world's GDP.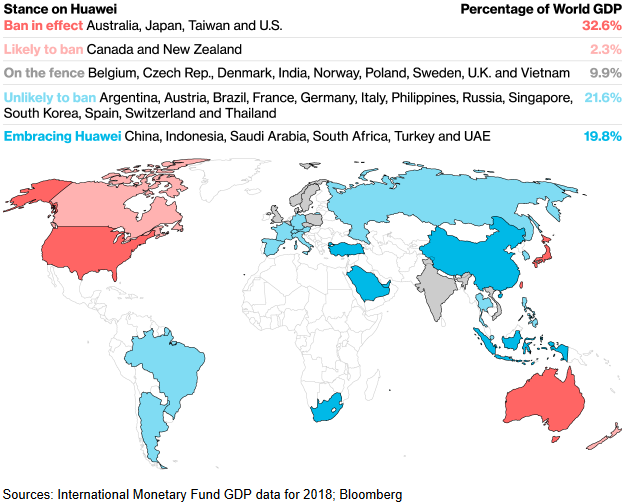 As expected, Huawei themselves jumped to the UK's defence, urging them not to be intimidated into making decisions.
Liu Xiaoming, Chinese ambassador to the UK, spoke to their international standing, while massaging their ego a little:
"Countries of global influence, like the UK, make decisions independently and in accordance with their national interests."
That quote came two days before another Bloomberg report suggesting Vodafone Italy discovered backdoors in Huawei equipment in 2011 and 2012.
Described as "hidden backdoors" by Bloomberg, Huawei, speaking to ZDNet, said they were no such thing:
"These were technical mistakes in our equipment, which were identified and corrected. The accepted definition of' backdoors' is deliberately built-in vulnerabilities that can be exploited — these were not such. They were mistakes which were put right."
It's since been confirmed that the claims were incorrect.
Huawei across the world
In March, we examined how restrictions and security concerns had (or hadn't) affected Huawei's popularity among smartphone users. This first chart shows growth in the four countries you'd expect to toe the US' line on such issues. It shows small but stable growth in the UK, Canada and even the US itself. Only in Australia did Huawei see a loss in overall market share.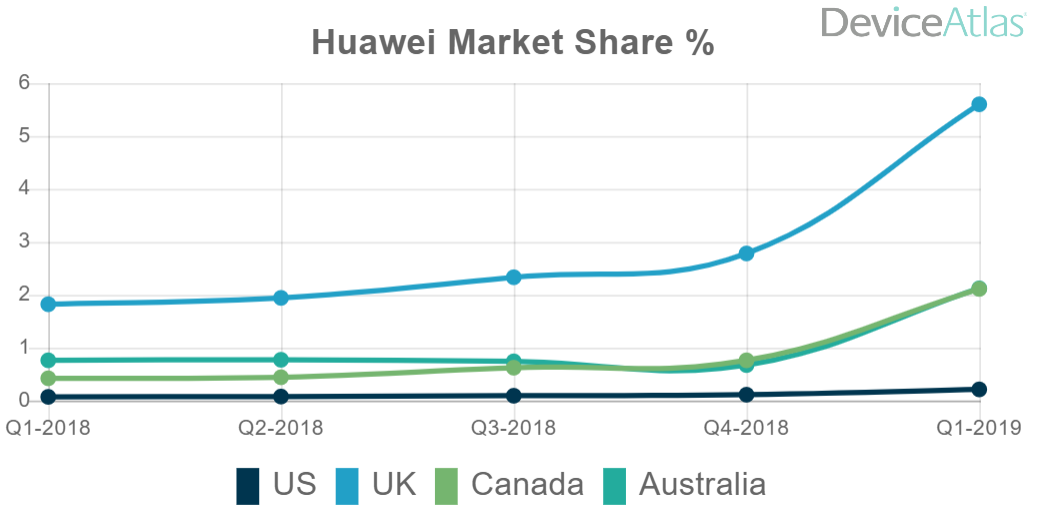 With the political wrangling unlikely to end any time soon, we also looked at specific Huawei smartphones and how popular they've been in the UK throughout the last year or so.
Using DeviceAtlas data for each quarter of 2018, we can see a small but definite improvement in use of both the P20 range. The charts below tell a story – a story the US and her allies may not want to hear.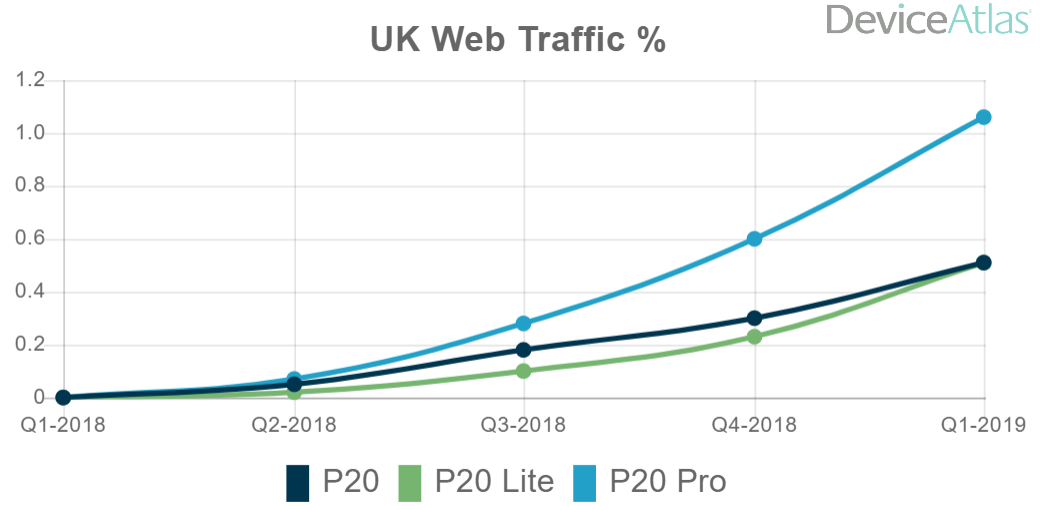 Huawei forge ahead
With so much flak coming from so many angles (some of it legitimate, much of it not so legitimate), credit must go to Huawei for maintaining their push to catch Samsung at the top of the list.
We certainly won't bet against it – the recently released P30 and P30 Pro have earned rave reviews for their impressive camera, in-screen fingerprint reader and general premium feel and performance.
We're likely to see the overall use of Huawei grow further in 2019.