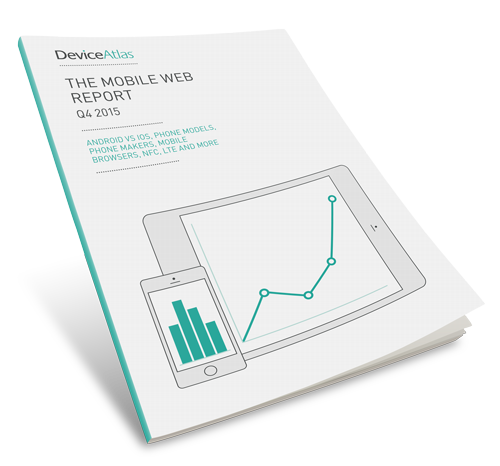 If you're based in the US and viewing this post on a mobile phone, 57% of you will be on an iOS device and 41% of you will use Android. This is one of the many statistics on mobile device usage you can learn from The Mobile Web Report for Q4 2015 put together by the DeviceAtlas team.
Focus on comparing Android and iOS
The newly released report, based on traffic to thousands of websites powered by DeviceAtlas, reveals the latest trends in terms of the most popular mobile operating systems in selected local markets.
Generally speaking, in 2015, Android was much more popular than iOS  in terms of web traffic but the report found that iOS grew faster than Android. For example, there were four countries which went majority iOS during 2015 and only one country which went majority Android.
Also the world's most popular mobile device for web browsing is today iPhone 5/5S. In terms of Android, the most popular devices are in the Samsung Galaxy family, especially the S5 and S6.
Web traffic by age of device
The Mobile Web Report for Q4 2015 also explores the latest statistics on the age of devices used in selected markets.
Interestingly, phones released in 2012 or earlier generate a significant share of web traffic in all countries analyzed which means that they're still actively used. This is relatively surprising given that operators typically allow their customers to upgrade to a new device 18 months to two years for a discounted price or free of charge. Of course, this does not refer to pay-as-you-go users.
Get more statistics on the mobile web
Download the latest DeviceAtlas Mobile Web Report for Q4 2015 to discover even more trends in the mobile world, such as the popularity of phone vendors, mobile browsers, LTE and NFC enabled devices. You can access the report by clicking the link below.