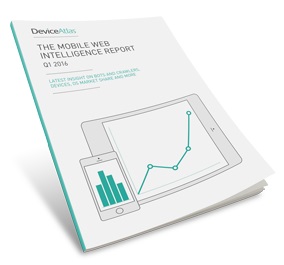 A new report released by DeviceAtlas sheds some light on the share of web traffic generated by non-human visitors such as bots and crawlers during Q1 2016. The report also talks about mobile web traffic share generated by the most popular mobile OSes, phone models, screen sizes, and much more. Here's what you can learn in the report.
Human traffic vs bot traffic
The new Mobile Web Intelligence Report from DeviceAtlas shows that the amount of web traffic generated by bots can very high reaching nearly 50%. This whopping figure, based on mobile traffic to a global network of partner websites, is actually in line with industry standards reported in other studies such as the 2015 Bot Traffic Report by Incapsula. Of course the share of non-human traffic may vary depending on the type of website, country, audience, etc.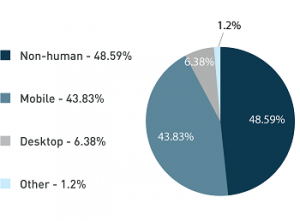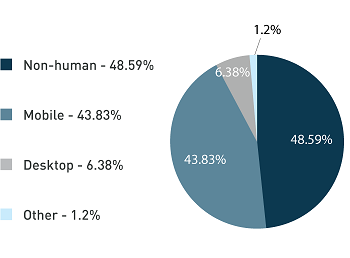 The most active non-human visitor was the Majestic-12 bot which is a part of the Majestic Search Engine. According to its Wikipedia entry, Majestic Search Engine is a community-driven project aimed to create a search engine based on a distributed web crawler.
For the list of the most active bots, check out this blog post on DeviceAtlas.
5-inch phones are gaining traction
In the past, DeviceAtlas web traffic reports showed that smaller phones were more popular than the large-screen devices, even though most flagship phones are now at least 5-inch.
In the Q1 2016 report we saw that larger phones were as popular as the 4- and 4.7-inch devices, if not more popular. During Q1 2016, 5-inch phones gained a lot of web traffic share, while 4-inch phones lost.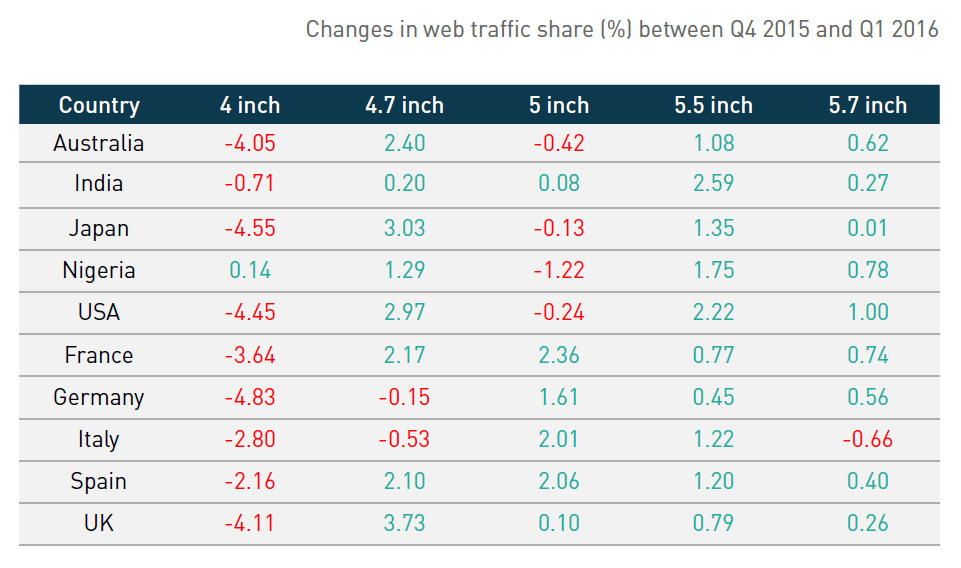 This trend is also visible in the most popular iPhone models as shown in the table below. iPhone 6/6S grew its traffic share at the expense of iPhone 5/5S/5C. It will be interesting to see these statistics in a few months after the user base of iPhone SE (a 4-inch device) becomes significantly larger.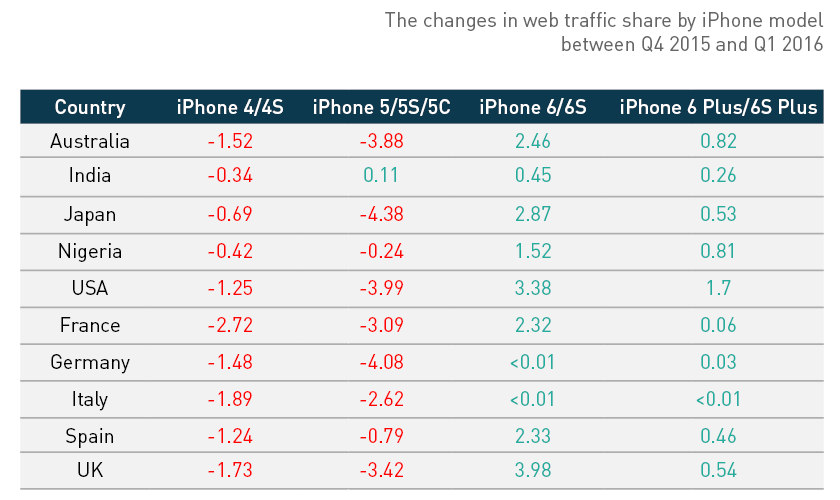 Non-LTE phones still generating traffic
Today website owners should not assume that all users can use super-fast connectivity and the latest report proves this fact. Non-LTE phones still generate a lot of web traffic meaning that some users just can't use the fastest mobile networks even if they're available simply because their phones don't support them. Phones not supporting LTE were the most popular in India (45% web traffic share), Nigeria (39%), Italy (36%), Spain (29%), and Germany (20%).
Facebook also highlighted these issues recently by saying that at least 1.6 billion people still live in places where mobile broadband networks (3G and 4G) are not available.
Here are 12 tips on how to improve web performance to make sure that all users get optimal viewing experience even when they're not on the fastest LTE network.
Get your copy of the Q1 2016 report
If you'd like to learn more about the latest trends in the mobile world, click the button to download the new DeviceAtlas Mobile Web Intelligence Report for Q1 2016.