While the latest flagship devices come with at least Full HD screens, it's the humble 720×1280 that's getting the largest share of browsing today. This is according to the latest DeviceAtlas Mobile Web Intelligence Report for Q3 2016 which also covers the most used phone makers, mobile OSes, Android versions, and mobile browsers.
720×1280 gets the largest share, QHD is growing fast
The variety of mobile screen sizes and screen resolutions clearly shows that the mobile landscape in 2016 is really fragmented. There are at least 6 leading screen resolutions including 480×800, 640×1136, 720×1280, 750×1334, 1080×1920, and 1440×2560.
The largest screen resolution in a mainstream smartphone is the massive 2160×3840 (4K) screen used by the Sony Xperia Z5 Premium. But even some of the smallest screen resolutions found on feature phones, such as 240×320 or 128×160, generated some website hits in Q3 2016.
It's a similar picture when it comes to screen sizes. While today large phones dominate in terms of sales, small 4-inch devices are still a widely used category mainly due to the popularity of the iPhone SE and a long lifespan of the 5S.
The newly released DeviceAtlas report includes an analysis of 20 selected local markets from all continents to give you a detailed breakdown of the most popular mobile screen resolutions in use. According to the report:
720×1280 is most used in 9 countries including India, Italy, and Spain
750×1334 is most used in 5 countries including Sweden, UK and USA
640×1136 is most used in 3 countries including Canada, France and Russia
1080×1920 is most used in 2 countries including Germany and Malaysia
1440×2560 is most used in South Africa
Interestingly, the largest screen resolution is now growing at the fastest pace. QHD (1440×2560) grew in all 20 countries analyzed in the report with the largest growth in Italy where QHD phones doubled their share of web traffic in 2016.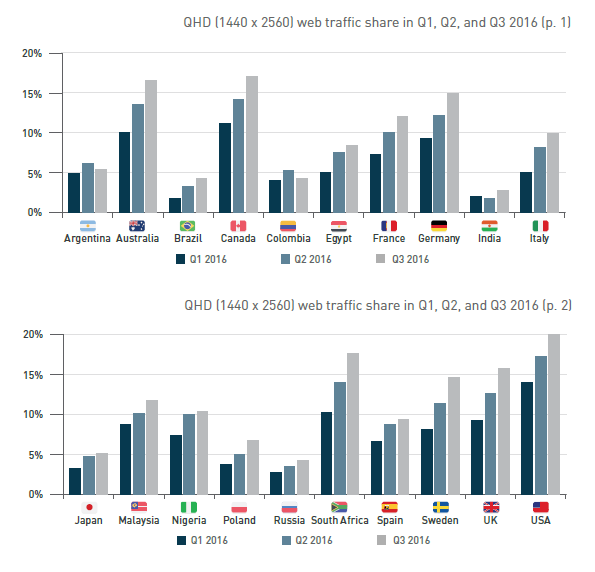 Other mobile stats covered in the report
Mobile operating systems, Android versions, phone makers, and mobile browsers are also covered in the Q3 2016 edition. Here are some of the report's highlights.
The leading phone makers are still Apple and Samsung, while Sony, Huawei, and LG are typically ranked 3rd to 5th depending on the country. Many locally popular brands gain traction in selected markets, such as QMobile (20.1% in Pakistan), Micromax (7.8% in India), Infinix (6.7% in Nigeria), MyPhone (5.7% in Philippines), and Sharp (4.6% in Japan).
Android outpaced iOS web traffic which was reported in the previous report for Q2 2016 which we covered on mobiForge. Between Q2 and Q3 2016, iOS gained web traffic share in only 5 countries, while Android gained in 18 countries.
Android 5.0 and 5.1 remain the most popular Android versions worldwide, with the largest web browsing share in 14 countries out of 20 we analyzed. Marshmallow got most traction in 6 countries including Australia, Canada, Germany, Sweden, UK and USA. Android 7 (Nougat) got only a tiny share of web traffic in Q3 2016 with the greatest uptake in Australia, Canada, and Sweden.
Samsung Browser is now the third most popular mobile browser in most countries we analyzed behind Chrome Mobile and Safari.
Get your copy of the report
Click the button below to download your copy of the report. You can also download historical reports and sign up to get them regularly by visiting the mobile reports centre page.