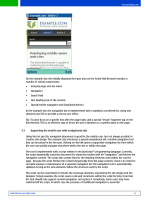 Not exactly news as such, but I got around to reading this confusingly named guide only today (to be clear, it's about designing web content for mobile rather than designing web browsers). The guide says it is to "help developers see what kinds of issues to consider as their audience begins to use more and more mobile clients to access Web content" but actually it is more about designing content that works well with the new browser that's shipped on the latest S60 phones. The doc gives a run down of the features and standards supported by the browser and also briefly covers the W3C MWI Best Practices.
Interestingly, despite the fact that the stated aim of the new browser is..
"..to deliver a full, desktop-like, web experience with a mobile browser, without the need for creating and maintaining separate Web sites for desktop units and mobile devices"
the guide goes to some lengths to explain the changes you should make to your desktop web content to make it work well on this browser. These changes include making the best use of the top left 240×320 pixels on a page that the brower initially shows by putting navigational elements there, customizing the CSS for this browser (the CSS "handheld" media type is not supported) and tailoring the font sizes. I would have liked to see more coverage of the mobile context also — this is a crucial difference in designing useful services for mobile.
Still worth a read though, and the guide helpfully links to some sniffer code for this browser and site example code. Guide is available here.