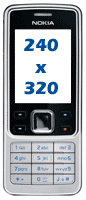 I've had this theory for the last few months, and so I've decided to put it to the test. Today, most of the new phones you can buy have a screen resolution of at least 240×320 and are fully web xHTML (WAP 2.0) capable. When I see all the new models constantly coming to market, it's clear that the common screen width is definitely shifting to 240×320 pixels.
So over the last month I started to list all the handsets that are available to end users by subscribing to all the operators in Ireland or United-Kingdom. I've been through Meteor, O2, 3, Vodafone, Orange, T-mobile and even Virgin Mobile websites, collecting the data, and then for each device checking the screen resolution and whether a "proper" WAP 2.0 mobile web browser was bundled with it.
This data represents only the panel of choice that the customer has, and not per device popularity.
Here are the figures: over Ireland and UK operators there is a choice of more than 120 unique different handsets, for a total of nearly 280 choices.
Of this total:
82% are fully mobile web capable and should give a good user experience (like a Nokia 6300, Samsung E840, Sony-Ericsson W580i)
17% are capable but limited by screen size or poor software. (e.g. Sony-Ericsson W375, Nokia 3110)
1% are not capable, and anyway only available in pay-as-you-go and not targeted for web users. (e.g. Motorola W208, Nokia 1200)
72% have a screen resolution of 240×320 or more
68% strictly equals to 240×320
This resolution is good enough to have a decent experience on a *properly designed* mobile site: it can display enough text on one screen, and it can display many button and links without scrolling too much, or it can even display a readable full size image.
Conclusion: today, the average handset isn't a barrier anymore for mobile web browsing. (But data cost and user education are still hurdles). And with the short period of mobile renewal for the user (a mobile is nearly a disposable device today), soon most users will have a web capable phone.