The latest DeviceAtlas whitepaper explains the difficulty around accurate device detection of iOS devices.
In all Apple devices, the User-Agent string only indicates the hardware type, not the model. By parsing User Agents alone, all you'll know is whether you're dealing with an iPhone or an iPad. This leaves some useful properties outside your field of vision, for example screen resolution, CPU/GPU ability and whether the device is on a 3/4G or WiFi connection.
While solutions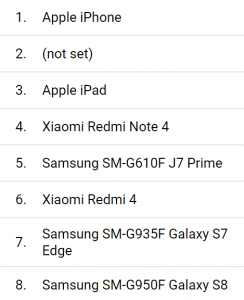 such as Google Analytics give a basic after-the-fact overview, the information available without the DeviceAtlas Client-side Solution remains threadbare.
This makes content optimization, ad-targeting and web/app analytics a lot less accurate, resulting in higher costs, fewer conversions and a less than perfect user experience for your customers.
This whitepaper explains the problem, the benefits of a solution, and how DeviceAtlas allows you to enhance your current device knowledge in real-time.