In order to help web developers who are already familiar with authoring for the PC-internet adapt their skills to mobile, mTLD provides a short online course that help explains the different techniques that are required for creating a mobile site. This course is completely free of charge and streamed directly to your browser.
The course covers the following:
The mandatory dotMobi rules
XHTML Mobile Profile
Validating your code
Testing using desktop browsers
MIME types
Use of mobile emulators
DotMobi site templates
Useful tools for mobile development
Getting your site indexed by Google
World Wide Web Mobile Web Initiative best practices
If you have completed the training, you may be interested in becoming dotMobi-certified. You can find out more about our certification programme here.
Click on the image below to launch the course in your browser!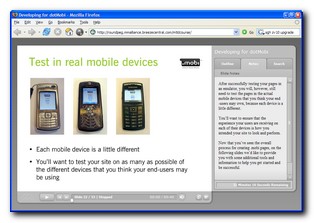 Developers should also consider looking at the following documents for further information: